I had a chance to be a part of history. Even though sand did not play a role, well there were particles one day, but they were really tiny, I wanted to add this page to my website. I am an educational consultant for NASA working out of the Johnson Space Center on a curriculum project called Expedition Earth and Beyond. Most of the work is done through teleconferences, but once a year, usually in July, we get to travel to Houston to do some face-to-face work. This week's session coincided with the landing of Atlantis, the last shuttle mission. I have attempted to outline what we saw during our week. Enjoy!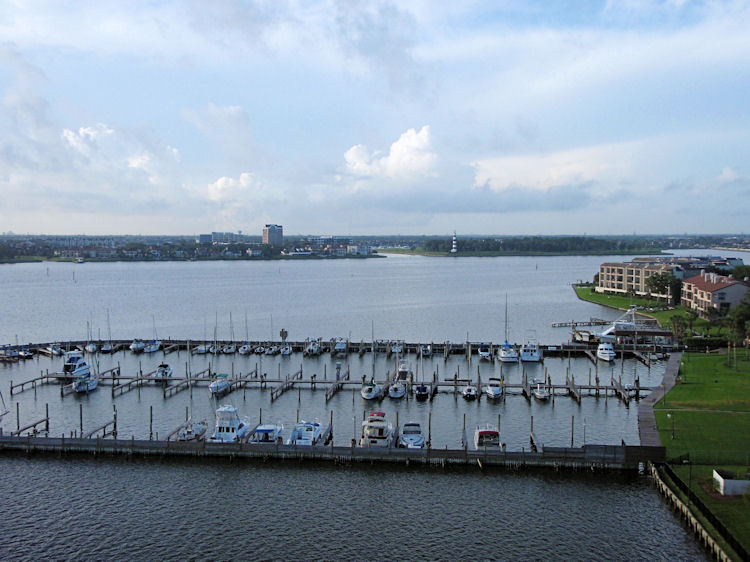 We always stay at the Hilton Houston NASA Clear Lake. First thing in the morning we always look out across the lake to see the weather. Houston in July is a study in Cumulonimbus clouds! I arrived on Sunday afternoon, and was treated to a great dinner at a local restaurant. The guest speaker was Norm Caffey.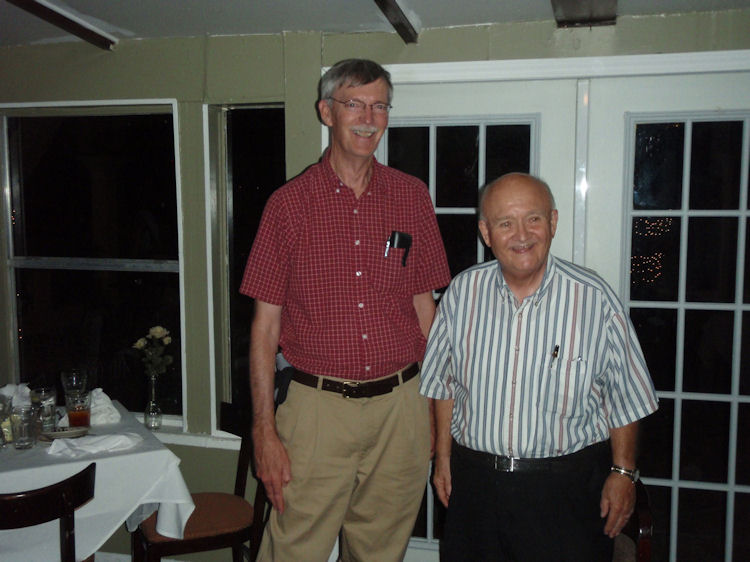 This was my second time hearing Dr. Caffey. He is an engineer at NASA, and has worked there since the Mercury program. His specialty is the small rockets that guide the space craft once it is launched. He has worked on virtually every manned program since the beginning. His stories were spellbinding. He still maintains an office at Johnson Space Center, and mostly goes out and talks at schools or to groups that come to JSC. Is favorite lecture is to walk along the length of the Saturn V they have stored in Rocket Park, and tell his stories.
The five members of our team had arrived from various parts of the country, and we settled down to a morning of working on the Expedition Earth and Beyond curriculum revisions. Two units Spheres of Earth and Blue Marble Matches have passed NASA muster, and are ready to be used by one and all. A third activity, Oh What a Pane! is a truly unique mathematical activity designed for the program. We are currently working on final revisions to a fourth activity Student Scientist Guide Book, that literally guides students through how scientists conduct original research. Please give these a look!
In the morning we continued to work on revisions, but then we went on our first Field Trip to visit a habitat that is being used for part of NASA's Desert RAT field testing. The tests this year are simulating a human mission to an asteroid. The habitat will hold four crew members. In addition to the habitat, two rovers will also be used during the test. These components will be tested in the Arizona desert in late August/early September. The section I am standing in front of is the work area. A separate inflatable habitat will be mounted on top of this.
Yesterday ended early because we had a very early wakeup call this morning to go to JSC to watch the landing of the Shuttle Atlantis with about 2,000 of our fellow NASA employees. The atmosphere was very festive! People formed orderly lines to get their NASA packet including a great poster that showed the accomplishments of every mission. A jumbotron in front of Building One showed the progress of the flight as it approached Florida.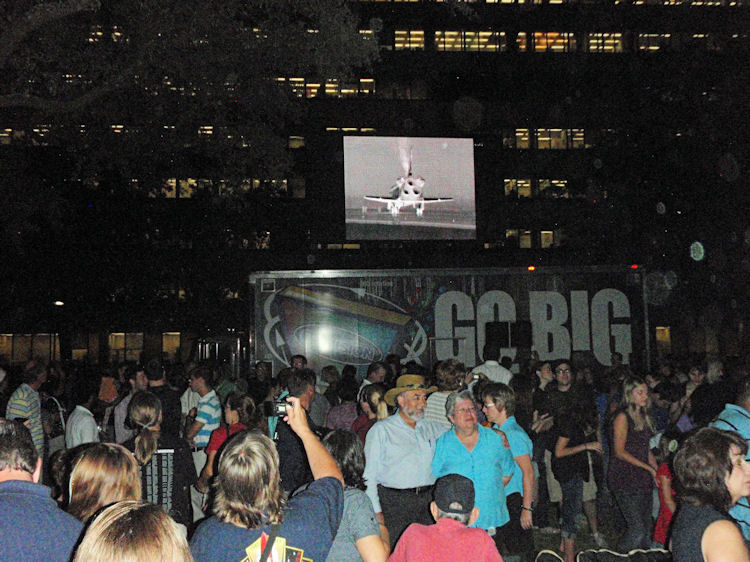 The image above shows Atlantis in infrared as it touches down.
After the landing we went into an auditorium where they had set up giant boards for signatures. These boards will be placed with the shuttles in their new homes.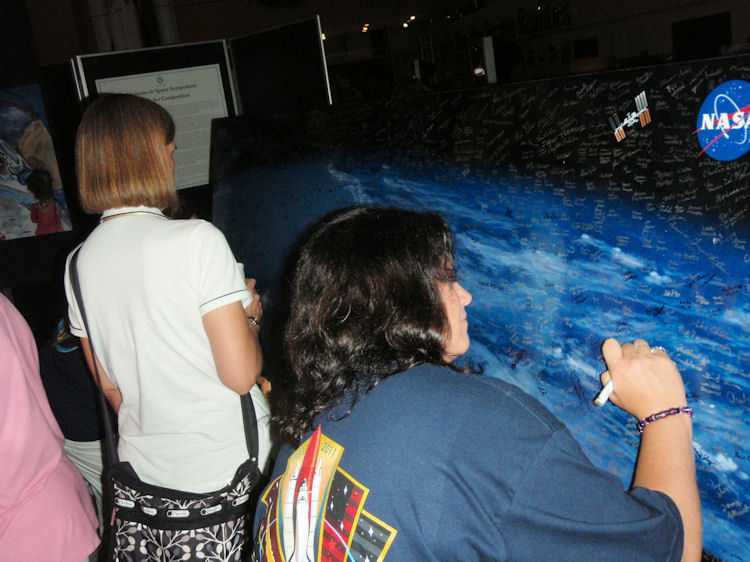 The day was still young when we went on our second field trip to NASA's meteorite lab. Here, all of the samples accumulated from missions to Antarctica are stored. In addition there is also a microparticle lab where samples from various space missions in missions to the upper atmosphere are examined.
NASA scientist Dr. Jack, displays two of the disks that are attached to high flying aircraft to collect samples from outer space that are found in the upper atmosphere.
The most famous find in the Antarctic Meteorites Lab is ALH84001. Although it is still heavily debated, this meteorite from Mars may show signs that it contained bacterial life. The discussion still continues. On the right is Big Lou. It was one of the largest samples ever collected in Antarctica. NASA engineers had to construct a unique storage cabinet just for this one sample!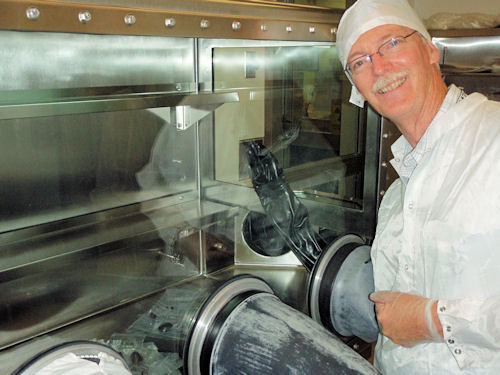 All samples are stored in a Nitrogen rich environment. Working on the samples requires using tools that are constantly checked for contamination. Scientists work on the samples in special glove boxes.
In the morning we participated in the last day of the Lift Off! program that was taking place that week. Our Principal Investigator presented Spheres of Earth and the two mathematics people on our team presented Oh What a Pane! In the early afternoon we headed to Ellington Airfield to see the returning astronauts. The venue was a huge hanger. By the time the crew arrived the hanger was full!
When the astronauts arrived the session started with the Star Spangled Banner. At first the singing was robust and loud. As it went on many voices dropped off chocked with tears. Then each crew member gave a speech.
The session ended with Mission Specialist Rex Walheim quoting a message that was posted at the Florida landing site -
"Don't cry for what has ended, smile for what we've done."